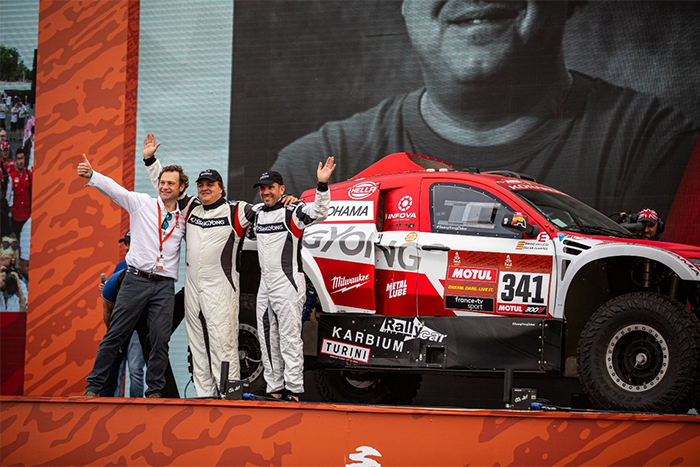 ▪ 33rd position overall and 10th in the T1.3 category
▪ Successfully finished the Dakar Rally 3 consecutive years with Tivoli DKR in 2018, Rexton DKR in 2019, and Korando DKR in 2020
▪ SsangYong will continue its various global activities to promote its technology and brand
On March 7th, the SsangYong Motorsport Team of SsangYong España, which challenged Dakar Rally, the world's most prestigious off-road car racing competition, had a successful start of the rally to achieve its third consecutive year run after successfully passing through the first section.
On the 4th of March, the 42nd 2020 Dakar Rally announced the start of the podium event at Dakar Village in Jeddah, Saudi Arabia with motorcycles, four-wheeled motorcycles, automobiles, and SSVs (multi-purpose off-road vehicles). A total of 342 teams participated in each category, and the first race began on the 5th.
From Jeddah to Al Wajh, SsangYong Motorsport Team finished the race with total distance of 752Km, finishing 10th in the T1.3 category and 33rd position in the overall ranking.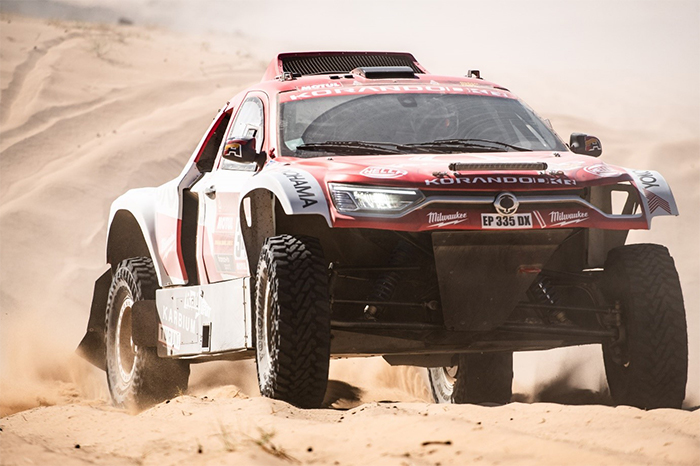 Oscar Fuertes and Diego Vallejo, the Madrid-born driver and the Galician co-driver were highly satisfied with their performance and the way Korando DKR performed which exceeded their expectation which allowed them to finish the race successfully.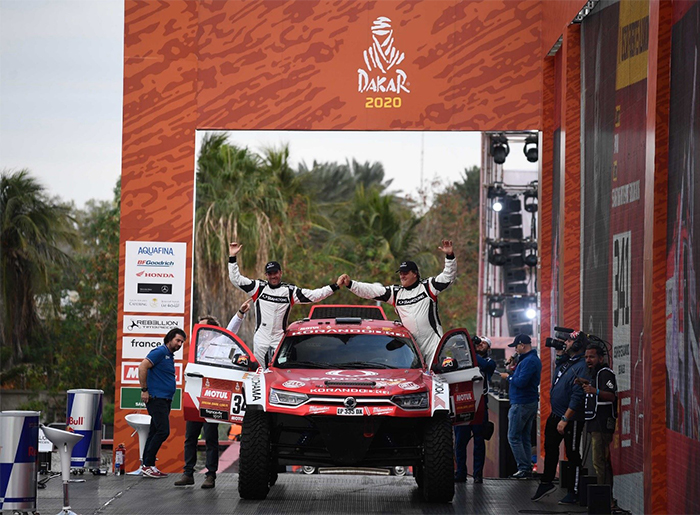 SsangYong España achieved their goal of "Completing Dakar Rally for the 3rd consecutive year" with Tivoli DKR in 2018 and Rexton DKR in 2019 and Korando DKR this year. The Korando DKR is a rear-wheel drive rally car that was modified based on the Korando design equipped with a 6.2L V8 gasoline engine with a power of 450 hp and a maximum speed of 195 km / h that was released earlier this year.
SsangYong España expressed that it is meaningful in itself that they were able to complete the race where more than half of the participating teams that challenge Dakar Rally, a race of hell, fail to complete it, thanking fans for all their support and interest, and that they will continue to carry out global activities to promote SsangYong's technology and brand in the future.
Fuertes and Vallejo notch up 36 completed stages in a row in the Dakar editions raced by SsangYong Motorsport; a solid proof of the 'Dragon' outstanding reliability. "We're very thankful to the brand and the sponsors who have accompanied us since the beginning of this grand adventure," states Fuertes, aware of the fact that great teamwork is behind this good result.
SsangYong's endurance is even more noteworthy as this has been a very fast Dakar overall, which required great effort from the vehicles and full focus from drivers and co-drivers. To prove this point, the SsangYong vehicle has taken 53 hours, 59 minutes and 52 seconds to complete almost 5,000 timed kilometers, while in the previous edition in Peru, it took it over 63 hours to race 3,000 km. That is, the Korando DKR had to race fast and endured the strain without having a single problem.
Byung-tae Yea, CEO of SsangYong Motor Company said, "I applaud SsangYong Motorsport Team for achieving the goal for three years in a row with excellent results through all sections at the world's most prestigious off-road car racing competition. And he added "We will strengthen various global activities to promote SsangYong's technology and brand, and actively strive to expand global sales."