Most Innovative and Respected Korean Automotive Company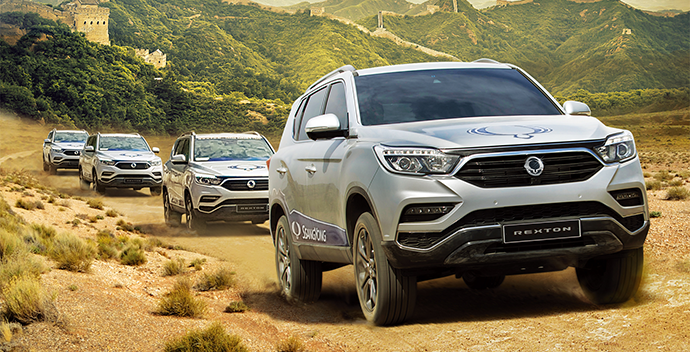 SsangYong Motor's existence is a history of frontiers crossed and challenges met to achieve a better future. As a premier manufacturer in Korea's automotive industry, SsangYong is respected for its advanced styling and outstanding performance since its foundation in 1954, made possible by the company's quality engineering.

The company entered the era of four-wheel drive vehicles in the 1980s by independently developing Musso and Korando. After 2000, SsangYong established itself as the leader of SUVs by building a full line of SUVs comprising Rexton, Korando, Actyon Sports, Tivoli and XLV.

By developing new horizons for the luxury saloon market, the Chairman became the country's leading car in its class and was recently upgraded as the Chairman W. As Korea's first luxury car to be equipped with a 5,000 cc V8 engine as well as 7-speed automatic transmission, Chairman W is the nation's flagship model and competes with other leading luxury cars around the world.

Our eco-friendly compact SUV Korando is SsangYong Motor's first front wheel drive monocoque vehicle. A milestone for the company's long-term product line-up, Korando is Korea's longest known car brand in the global SUV market.

SsangYong Motor has led the advancement of eco-friendly diesel technology through the development of an advanced, world-class common rail engine. The company is concentrating its efforts in strengthening its global competitive edge by producing small environmentall.y friendly, eXDi200 engines that conform to the EURO5 standard, and has developed new engines that are EURO6 compliant.

By implementing global and customer-oriented management, SsangYong Motor is expanding its presence in the world market. The company exports its SUVs through some 1,645 sales outlets in over 126 countries, and is actively expanding its global presence by establishing distribution in most major international markets. As an example it has opened regional head offices and parts centres in strategic European locations – the region that leads the way in the automotive industry.

To secure sustainable growth, SsangYong Motor will not only focus on existing and mature markets but also develop emerging markets such as Central America, Eastern Europe and even target India and China, the world's largest automobile market.

Pursuing only the best, SsangYong Motor is increasing its efforts to develop new designs and technologies that can achieve high driving performance and reflect the company's true identity. Moreover, by fully capitalising on its strong SUV product range, SsangYong will be able to strengthen its position as a competitive SUV maker in technical cooperation with Mahindra & Mahindra, a company that also specialises in SUVs.