SsangYong Motor Releases Tivoli Facelift Model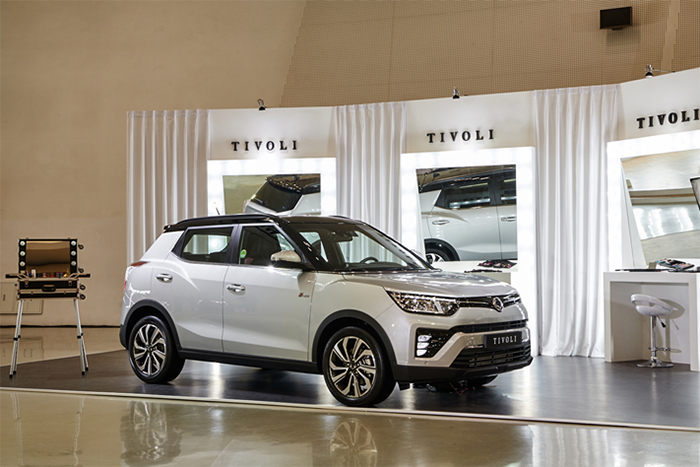 Tivoli has transformed with renewed exterior design and brand-new interior.
Thanks to its attractive style and excellent competitiveness, Tivoli has been loved by 2030 customers and has become the No.1 brand in the compact SUV market in Korea.
The Korean domestic compact SUV market has been growing exponentially since the release of Tivoli, and Tivoli came first place in sales despite the continuous launch of competing models, and established a solid foothold in the market as 'My 1st SUV.'
Through a facelift in 4 years since its initial release, Tivoli is powered up with SsangYong's very first gasoline turbo engine, along with smart driving, a brilliant digital interface, advanced travel control technology, and a wide range of design upgrade from inside and out. As the No.1 compact SUV brand, Tivoli is to provide its owners with additional satisfaction and confidence.
TIVOLI Design(Style)
#Exterior Design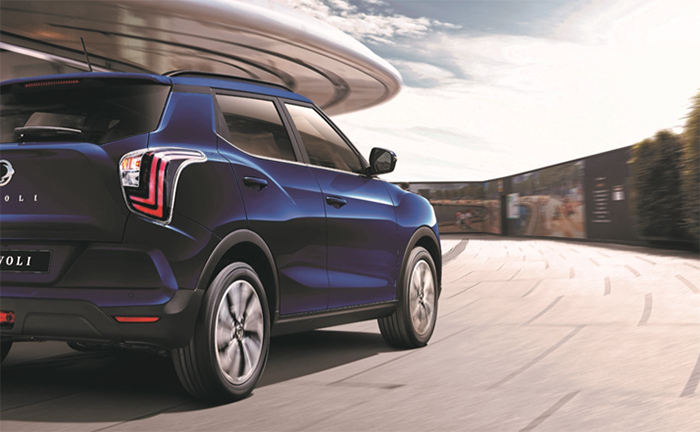 The exterior design increased its degree of perfection by adding a conventional SUV styling element to the previous model's design that gave its monumental appearance, and its generous use of LED light source completed its innovative and future-oriented demeanor.
The newly applied Full LED headlamps and LED fog lights accentuated Tivoli's classiness and functionality. The integrated bumper wrapped around the fog lights and the hood with a distinctive character line were designed to create a sporty and intense look.
Depending on the model, optional choices of 16" steel wheels, 16" and 18" alloy wheels, 18" black diamond cut wheels, and 18" diamond cut wheels are available.
In addition, Platinum Gray and Cherry Red have been added to the color lineup to satisfy the market's diverse taste through this facelift
#Interior Design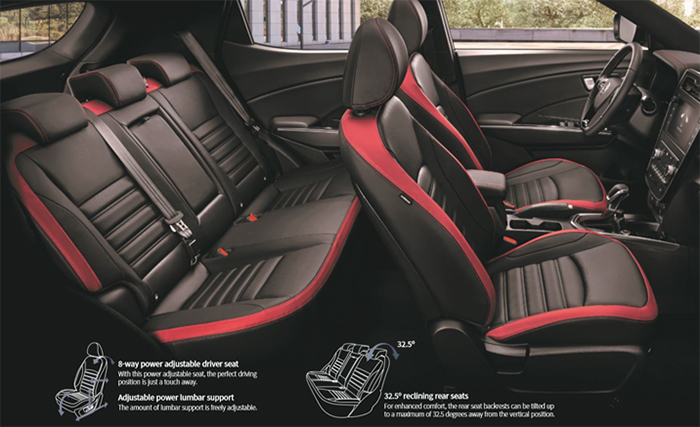 The interior design went through a radical, innovative change to provide the convenience and uniqueness of cutting-edge technology
In particular, the center fascia in the middle of the dashboard was completely changed to the tablet type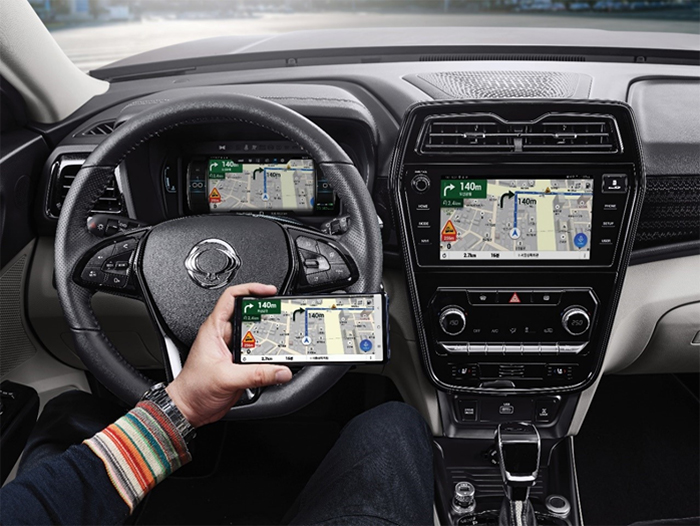 The natural leather seats of the interior are available in black, burgundy two-tone, and soft gray. The material and the shape of Tivoli's semi-bucket seats were thoughtfully and ergonomically engineered to help maintain a stable posture when cornering and driving by applying a foam pad.
Also, through optimal space design and width of 1,810 mm, passenger comfort and loading space were maximized. It is the widest in comparison to other vehicles of the same class, providing ample two-row space for the passenger's best comfort. The loading space of 427L is also the largest among the same class vehicles which makes it extremely versatile that even fits the golf bags.

TIVOLI Performance
#Powertrain
SsangYong's newly developed 1.5-liter turbo gasoline engine was first applied to the TIVOLI. It boasts a robust performance of a maximum output of 163ps / 5,500rpm and maximum torque of 26.5kg · m / 1,500 ~ 4,000rpm. Also, a double carbon accumulation prevention valve system was applied to increase reliability.
It offers three driving modes optimized for various driving environments. ▲ Normal: in a normal environment where efficiency and quietness are required ▲ Sports: optimal for sport drive with more output ▲ Winter: for a safe start on a slippery road in winter. The Idle Stop & Go (ISG) system was applied to all A / T models (except AWD), which temporarily stops the engine to save fuel when the vehicle is at rest.
The 1.6-liter diesel engine also achieved a wide range of performance improvements. It boasts maximum output of 136 ps / 4,000 rpm, and maximum torque of 33.0 kg · m / 1,500 ~ 2,500 rpm.

The AISIN AW GEN III (3rd generation) six-speed automatic transmission, which has been certified by various models of global makers such as Volvo, Peugeot, and Mini, is adapted. The synergy between the engine and the excellent power transmission performance and durability is at best, resulting in a fast and smooth shift that is fun to drive beyond just an SUV.
#Ride & Handling
More comfortable driving is enabled by strengthening NVH (Noise and Vibration Prevention), minimizing the noise from the roads entering the inside.
The structural adhesive was applied and the rigidity of the body panel was increased. Dynamic damper and four-point mounting were applied to the front and rear subframes, and sound absorption materials were added to each pillar to greatly reduce the noise level for the quiet driving experience.
TIVOLI Safety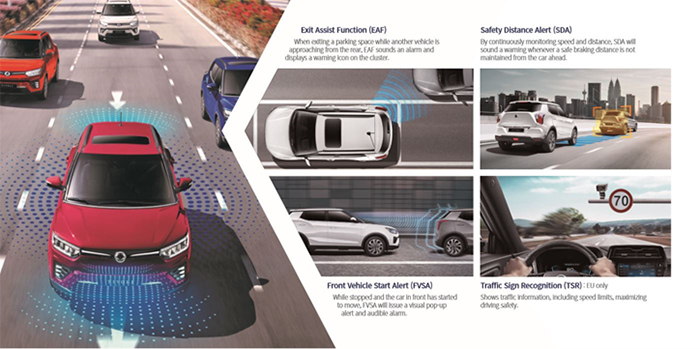 #Active & Passive Safety
Deep control, a more advanced state-of-the-art safety assistance system was applied. Active Safety Deep control that prevents accidents utilizes 13 technologies, the most among its class to provide greater safety.
ADASs such as ▲Autonomous Emergency Braking (AEB), ▲Lane Departure Warning System (LDWS), ▲Lane Keeping Assist (LKA), ▲High Beam Assist (HBA) and ▲Forward Collision Warning System (FCWS) were applied. Also, these technologies newly applied to Tivoli enhanced safety by leaps and bounds.
▲ Front Vehicle Start Alert (FVSA) ▲ Driver Attention Alert (DAA) ▲ Safety Distance Alert (SDA) ▲ Blind Spot Detection (BSD) ▲ Lane Change Assist (LCA) ▲ Rear Cross-Traffic Alert (RCTA).
• In particular, the Rear Cross-Traffic Alert Intervention (RCTAi) assist by emergency braking when there is a risk of collision with an approaching object from the rear, and the Exit Assist Function (EAF) sounds an alarm when exiting while another vehicle is approaching from the rear. Tivoli is the first to have these two featured applied among competitor models of the same class.
TIVOLI Infotainment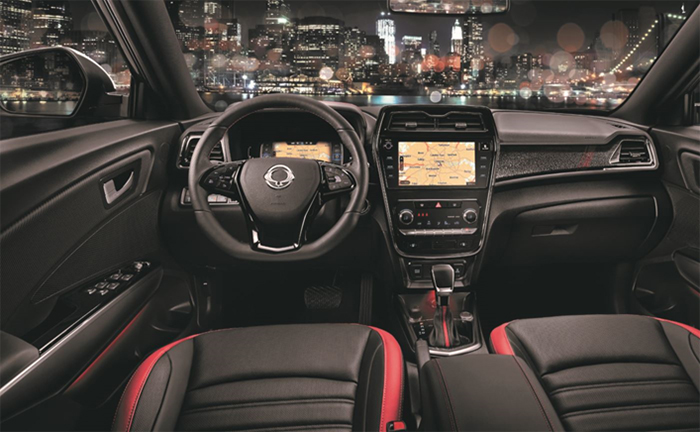 Tivoli's infotainment system is designed to maximize the enjoyment and convenience of travel and is the best in its class in every respect.
Tivoli's brilliant digital interface, The Blaze Cockpit features a combination of 10.25-inch full digital clusters and a 9-inch AVN, giving it the feel of cutting-edge technology and sophistication at the same time.
A 10.25-inch full digital cluster replacing the existing analog cluster was applied for the first time in its class. It enables viewing and controlling various contents including driving warnings, driving information, media play with high-resolution graphics.
Depending on the cluster mode, the dashboard theme changes, providing the visual pleasure with personalized greeting message when boarding (adjustable initial screen and sound source).
With 9-inch HD screen, enjoy all type of contents by connecting AVN pictures in high quality. Apple CarPlay and Android Auto mirroring services are also available.
TIVOLI Convenience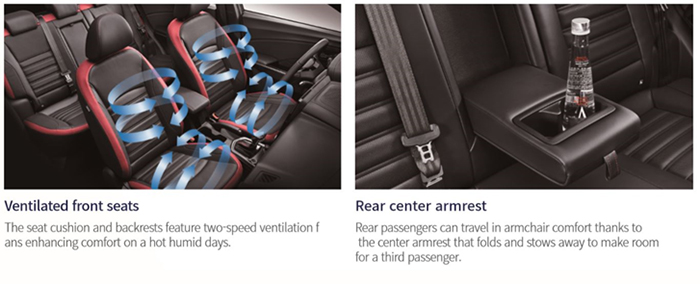 The 8Way driver's power seat has the same 4Way lumbar support that reduces fatigue for extended periods of travel.
In addition, a driver's seat ventilation sheet, a hot-wire steering wheel, and six sensors (two front and four rear) detecting front and rear obstacles were applied, improving parking convenience and safety.