▪ Had the kick-off ceremony at the Great Wall and started its journey
▪ Drive along the Silk Road to Urumqi via both Zhongwei Temple and Dunhuang Mogao Caves
▪ Will be a roadshow of 13,000km toward global launch in Germany, and finally ends in the UK
SsangYong Motor Company (CEO Johng-sik Choi; www.smotor.com/en) held the kick-off ceremony of the 'Rexton Trans Eurasia Trail' in Beijing, China on August 11th, 2017.
Participated by the staff members of SsangYong headquarter and Pangda Automobile Trade Co (SsangYong China Distributor), the success of this great journey with the 5 Rexton vehicles was wished at the ceremony in front of the Great Wall in Beijing.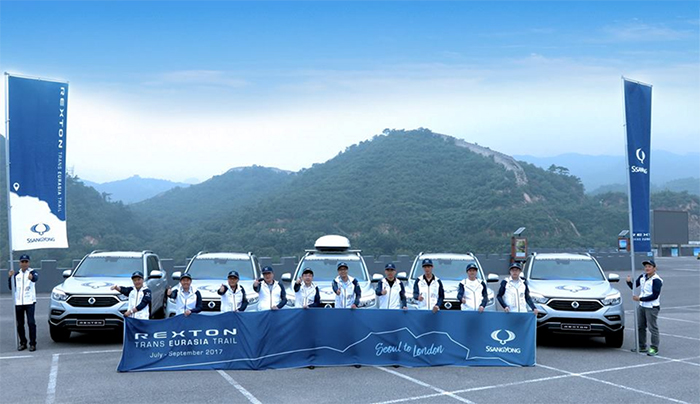 The Rexton Trans Eurasia Trail crew attended the kick-off ceremony at the SsangYong Motor's Pyeongtaek plant on July 27th and moved to Beijing, and finally started their journey for a month. Driving route in China has started from Beijing, and will go through Lvliang, Zhongwei, Jiayuguan, Kumul, and Urumqi, experiencing the durability, driving performance, and quality of Rexton in diverse environmental condition. Total distance of 3,469km over China is the longest route among the total 6 stages of this journey.
In particular, crew members will drive along the Silk Road which was a channel for Eurasian trade and communication, and will visit historic sites such as the Han Dynasty Museum, Zhongwei Temple, and Dunhuang Mogao Caves.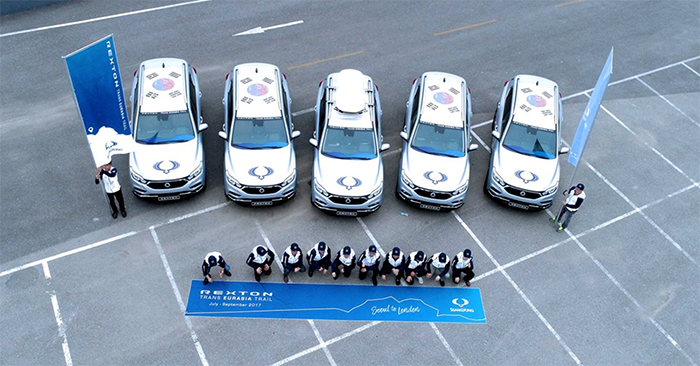 After the stage in China, crew members with Rexton will continuously drive from Asia to Europe via some countries including Kazakhstan, Russia, Lithuania, Poland, and will have its European debut at the 2017 Frankfurt Motor Show in Germany on September 12th. After that, Rexton will again move to the United Kingdom for the UK market launch event, and finally the great journey will be finished.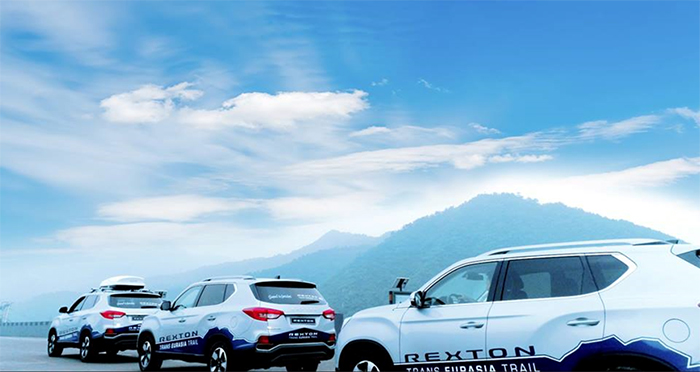 Rexton Trans Eurasia Trail will run about 13,000 km for 50 days, divided into 6 stages until Thursday, September 14th. 30 journalists from Spain, Italy, France, Belgium, Switzerland, Poland, and Sweden will drive Rexton in each stage. This journey will enable journalists to fully experience the driving performance, durability, and competitiveness of the Rexton before its official launch at the global markets.
Meanwhile, SsangYong will constantly post various aspects of Rexton with city views and beautiful natural sceneries, and interesting stories on its official global SNS channels including Facebook (facebook.com/ssangyongglobal) and Instagram (instagram.com/ssangyong_global).
CEO of SsangYong Motor Johng-sik Choi commented "We organized this kick-off ceremony in order to commemorate the first footsteps of Rexton Trans Eurasia Trail," and added, "It will be a roadshow to establish a foothold to promote the outstanding performance and quality of Rexton, and we will secure SsangYong's position in the global large SUV market through successful launch in Europe."