▪ Agreement signed for the licensed production of a premium pick-up model in Saudi Arabia, starting 2020 for an annual volume of 25,000 units
▪ SsangYong to participate in the construction of a production plant with a 150,000-unit capacity, foster the establishment of an auto parts complex and build a strategic partnership with SNAM
▪ A new base for exports to bring growth momentum to SsangYong and its suppliers upon jointly entering the market
SsangYong Motor Company (CEO Johng-sik Choi; www.smotor.com/en), part of the Mahindra Group, announced today that the company signed a product licensing agreement with Saudi National Automobiles Manufacturing Co. (SNAM) for the production of premium SsangYong pick-up model in Saudi Arabia with the view to enter the local automotive market in 2020.
The two companies held a signing ceremony of the product licensing agreement at Seoul Office of SsangYong Motor in Korea on February 25, 2017 in the presence of SsangYong Motor CEO Choi Johng-sik and SNAM CEO Dr. Fahd S. Aldohish.
SNAM was established as one of the group companies of the Safari Group, a leading group of diversified companies, and it is the first automotive company to be established as a complete automotive complex (main plant + Tier1 suppliers) in Saudi Arabia, pursuant to the Saudi Arabian government's plan to build an automotive industry which is one of the core projects of the government's national mid- to long-term development plan 'Saudi Vision 2030.'
SNAM has secured a site of 1,000,000㎡ for the production of completely built vehicles in the Jubail Industrial City as well as a site for Tier1 suppliers in the size of 1,000,000 ㎡ to start an automotive business. It signed the licensing agreement with SsangYong to pursue the first stage of the business.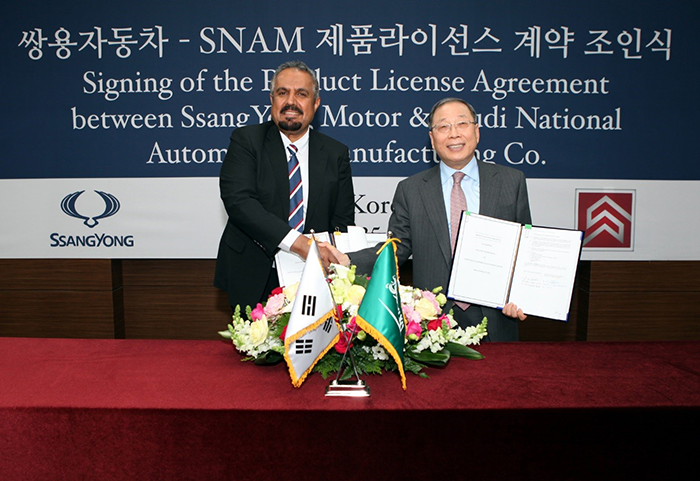 Based on the agreement signed this time, both companies will locally assemble and produce the Q200, a premium pick-up model of SsangYong, starting 2020 and gradually increase production to reach an annual production volume of 25,000 units.
With the signing of the product licensing agreement, SsangYong and SNAM will also hold successive discussions on the technical engineering support for the plant construction and facility installation, parts supply and localization as well as training and educational support for the local engineers.
Both companies will also work to create an auto parts complex within the Jubail Industrial City to ensure smooth vehicle production and encourage SsangYong's suppliers to advance into the Saudi Arabian market to provide stable supply of parts with good quality and achieve growth.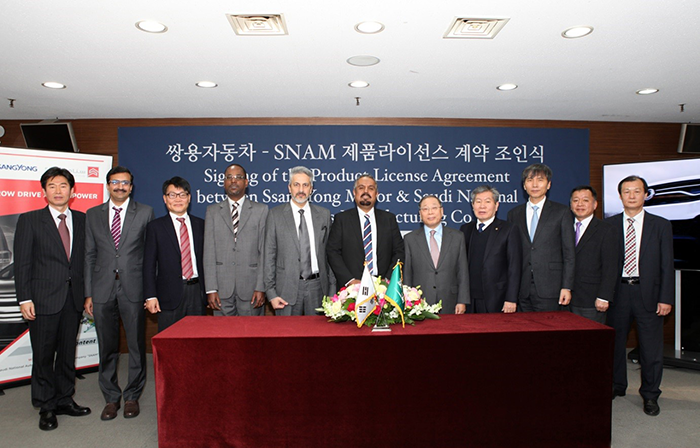 Furthermore, the two companies will strengthen their strategic partnership by building up their cooperation in the stages 2 and 3 of the business that will follow and be worked out in more detail after further study of the local automotive market situation.
SsangYong Motor CEO Choi Johng-sik commented, "This product licensing agreement with SNAM will provide a new base for our exports and help boost our global sales and future growth," adding, "It is also significant as it will offer a growth opportunity for our suppliers as well as they participate in the establishment of an auto parts industrial cluster."