▪ Upgraded model with new style and marketable improvements, sharing brand identity of Tivoli, No. 1 compact SUV brand
▪ Provides pleasant change in customers' lifestyles with its Unique Dynamic Style and unparalleled space optimization
▪ The only 4WD vehicle in its class, providing an exceptional driving experience
▪ Highest level of safety assured for passengers as Tivoli Air is composed of 71.1 percent high strength steel and equipped with seven airbags—more than any other competing SUV
▪ Bringing new life to compact SUV market with highly competitive pricing
Seoul, S. Korea, March 8, 2016: Ssangyong Motor (CEO Choi Johng-sik; www.smotor.com), part of the Mahindra Group, launched the Tivoli Air (Export name: XLV). An upgraded version of the original Tivoli, which has established itself as the No. 1 brand in the compact SUV market, the Tivoli Air boasts new styling and a host of attractive improvements.
On March 8, Ssangyong Motor held a launching ceremony for the Tivoli Air at Some Sevit in Seoul. The event was attended by over 200 people, including CEO Choi Johng-sik, Ssangyong executives, and journalists from domestic and overseas.
Characterized by an enhanced and unique dynamic style that preserves the elegant yet stylish design identity of the Tivoli brand, the Tivoli Air features highly improved functionality, far surpassing that of competing SUV models equipped with 1.7-liter engines.
In addition to the power and safety features unique to Ssangyong vehicles, the Tivoli Air is the only vehicle in its class equipped with a 4WD system, providing great on- and off-road driving performance. Moreover, its superb riding comfort, quietness, roomy interior, plentiful storage spaces, and multiple seating variations make it an attractive choice over competing models.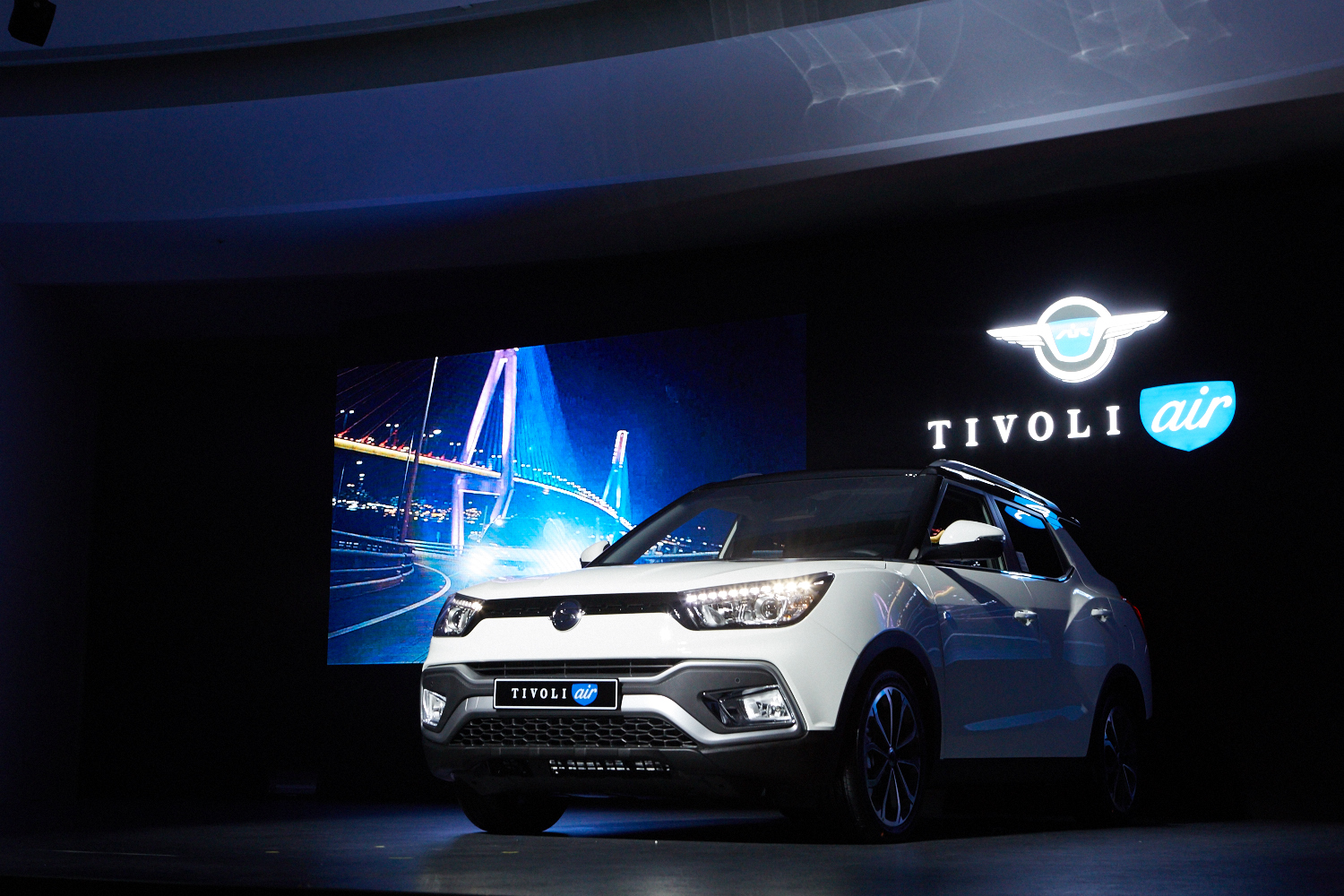 The name "Tivoli Air" was chosen to reflect the fact that the model possesses the essential qualities of an SUV, much like air is essential to sustaining living beings. Also, this model offers an incredible amount of storage space, the most among vehicles in its class, and strives to transform the lifestyles of its users, giving them greater freedom and making their lives more passionate and pleasant.
While maintaining the modern and elegant design identity of the original Tivoli, based on the concept of "Rhythmical Motion" from Ssangyong Motor's "Nature-born 3 Motion" design philosophy, the new Tivoli Air also features an elegant, dynamic appearance, forging a new unique and dynamic SUV style.
In particular, the radiator grille, unique to Ssangyong Motor and representing the wings of a soaring bird, and dynamic barbell-type bumper give the Tivoli Air a uniquely robust look, while the rhythmically flowing character line on each side embodies the dynamism of the SUV.
Tivoli Air provides a roomy interior with 720 liters of cargo space and a number of small storage spaces. Customers can choose from cloth seats, Geonic synthetic leather seats, and leather seats. The high-quality Geonic synthetic leather seats come in a red and black color pattern, creating a sporty image.
The second-row seats can recline up to 32.5 degrees, and there is more headroom than in competing SUV models, guaranteeing maximum comfort for any passengers in the back seats even during long trips. A latchtype folding system allows the back seats to fold down 60:40, and when the seats are completely folded down, a total of 1,440 liters of cargo space becomes available.
In addition, a 220V inverter has been installed in the cargo area, allowing the use of various electrical devices. This offers more convenience and opportunities for users to engage in outdoor leisure activities with their families.
The e-XDi160 diesel engine, also used in the Tivoli, produces 115ps and a maximum torque of 30.6 kg·m. Also, it delivers maximum torque between 1,500 and 2,500 rpm, which is usually reached at common driving speeds, and provides a pleasant driving experience.
The Aisin six-speed automatic transmission has been recognized for its superb performance and excellent power transmission, which is why it has been chosen and used by numerous global automakers. By optimizing the components of the power transmission system, the overall fuel efficiency of the engine has been improved, while power loss has been minimized.
As an option, customers may also choose the smart 4WD system, which greatly enhances the on- and offroad driving experience. This system achieves optimal power distribution based on the road and driving conditions and features multi-link suspension, which provides higher level of comfort and improved drive quality and safety.
Another defining characteristic of the Tivoli Air is that it is composed of 71.1 percent high-strength steel, more than any other vehicle in its class. Ten major parts of the vehicle have been made with hot press formed advanced high-strength steel with a tensile strength of 1500 Mpa, more than twice the strength of typical advanced high-strength steel (over 600 Mpa), providing greater safety for the driver and passengers by minimizing vehicle deformation in the event of a crash.
In addition to its seven airbags, including the knee airbag on the driver's side, the Tivoli Air features a ESP (electronic stability program) system, TPMS (tire pressure monitoring system), and LED daytime running lights, in addition to other cutting-edge safety technologies, all designed to ensure the highest level of safety
The vehicle's infotainment system is particularly noteworthy, as it features HDMI input, allowing images, sound, and video to be relayed and displayed on the Tivoli Air's large seven-inch screen, which is also connected to the backup camera. Also, the six-speaker sound system (standard in all trim levels) provides a high-quality audio experience for all passengers.
The Tivoli Air is equipped with the best air-conditioning system in its class. Its dual-zone, fully automatic airconditioning system allows the driver to maintain an optimum in-vehicle temperature, and the memory function allows up to three combinations of temperature and air-flow volume and direction to be stored, guaranteeing a pleasant driving experience in all four seasons.
In addition, the Tivoli Air is equipped with a ventilated seat on the driver's side, a heated steering wheel, and heated second-row seats, all of which are adjustable according to users' preferences. Also, a cargo cover screen, front automatic windshield washer switch, and automatic hazard light switch have been added to enhance driver convenience.
In order to allow customers to express their personalities to the greatest extent possible, SsangYong Motor provides a two-tone roof as a standard option for all seven colors (single-tone roof for the sunroof option). This permits customers to choose a color for the roof and rear roof spoiler that is different from the body of the vehicle, adding to the Tivoli Air's dynamic, urban style.
In the global market, Ssangyong Motor plans to increase the annual sales of Tivoli brand to over 80,000 units, including 20,000 Tivoli Air.
Choi Johng-sik, CEO of Ssangyong Motor, commented, "The Tivoli surpassed the limits of a compact SUV with its groundbreaking style and exceptional marketability, but the Tivoli Air is an advanced concept SUV that covers different segments and meets the needs of a broader range of customers," adding, "The Tivoli Air has been designed to optimize storage space and offer premium options. It will deliver a deep feeling of satisfaction to more sensible and reasonable customers who still enjoy a free and passionate lifestyle."
In celebration of the launch of the Tivoli Air, Ssangyong Motor will hold a variety of promotional and customer participatory events, including events for visitors at dealerships and test drives.